Golden doodles are the most loving and adorable dog breeds present out there. The unique and different combination of golden poodle and retriever created a dog that's both loving and loyal, but full of energy in a tiny format.
You get the Golden doodle by taking cute and combining it with dashing and throwing in energy, intelligence, and personality.
Your golden doodle, like any dog, requires a specific amount of things in their food, like protein, dietary fiber, Omega-3 fatty acids, and more.
The dog is more playful, active, and even more resilient in comparison to both parents if it is possible. This combination requires a lot of care, attention, and maintenance.
High-quality food is the part of the care making sure that the baby stays happy, healthy, and fluffy.
The breed is becoming popular among the owners especially as they are less susceptible to shedding as compared to other breeds. Or the reason might be those golden curls are difficult to resist.
For instance, your dog's diet is your responsibility, and selecting premium-quality dog food will help in the healthy growth of your puppy.
In this article, we will discuss everything about the best dog food for Golden doodles.
The Nutritional Needs of your Dog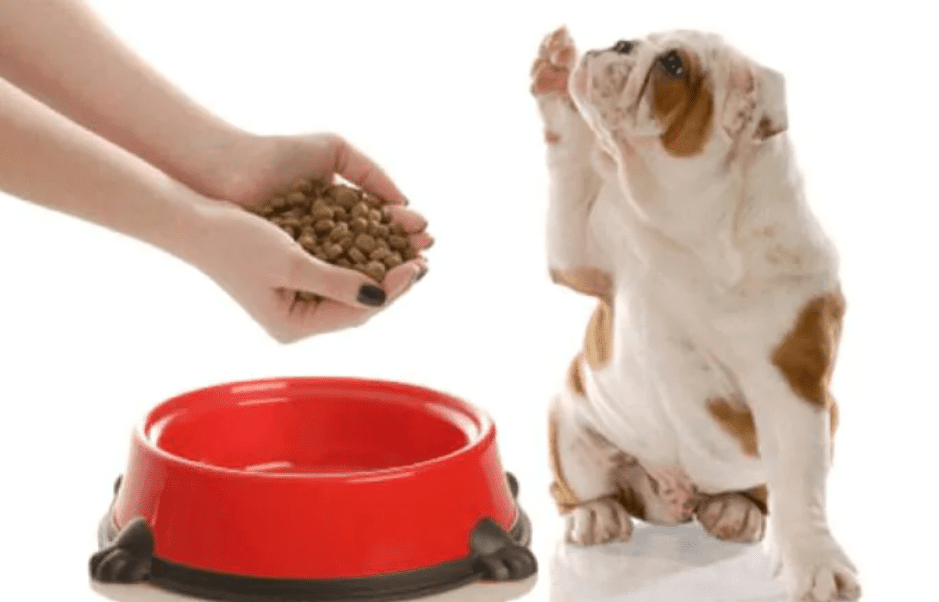 The Golden doodle resembles a wild wolf because the nutritional are the same. Pet nutrition experts call dogs scavenging carnivores versus cats the true carnivores. They are primary meat-eater simply, however can live on plants in a pinch.
An appropriate species diet for dogs has a high protein level with limited carbohydrates and moderate fat. Protein is important for a puppy's proper growth and development however, it supports healthy body weight and lean muscle mass in adult dogs.
In the human world, fat gets a bad wrap, but in reality, it provides concentrated energy sources to your dog and helps in the absorption of fat-soluble vitamins.
The dog has no carbohydrate requirement in his food and surely the carbs should avoid overshadowing the protein content.
Whole grain and low-starch veggies are nutritious carbohydrates, which can be a source of essential fiber and nutrients, but they should be less than 20-25 percent of his diet.
Does Breed Affect Nutritional Requirements?
Different breeds of dogs have significant differences in nutritional needs. The best dog food for Golden doodles will have the same amount of protein and as many essential nutrients as other dogs.
Energy is the main concern when it comes to breed-specific needs.
On average, the dog needs almost 30 calories per pound weight of the body for maintaining health.
Smaller breeds possess a fast metabolic rate for healthy maintenance as compared to large breeds that have higher chances of obesity. Technically, this breed is variable in size, miniature, small and large.
Mini Golden doodles require more amount of calories as compared to larger breeds, however, it all is dependent on the activity level of your dog.
Use a canine calculator online to get an approximation of your Golden doodle's calorie requirements and adjust the dog's resting energy requirement (RER) according to the spay/neuter status, age, and activity level.
From there, you have to observe the body condition of your dog and maintain his diet requirements.
Among large breeds, something you should be concerned about is a common problem: bloat or gastric torsion.
What is Bloating?
A life-threatening condition in which the stomach gets filled with gases and gets twisted on itself, blocking the flow of blood and resulting in a shocking condition in your dog.
Causes of bloating
Eating too much
Eating quickly
Particularly Poodles are susceptible to bloating, so your Golden doodle might get it as well.
You should not only think about the specific breed nutrition for your breed but also consider his age as well.
To maintain growth, puppies need more calories whereas, obesity is also a bigger problem in senior dogs. For dogs of all ages, high protein content is important.
The growth of all puppies is quick, however, excessive growth is a risk for joint and bone disorders in large breed puppies.
It is recommended to limit small or standard Golden doodle puppy to 3 meals per day and observe his growth. Miniature Golden doodle puppies might require four small meals on daily basis to prevent hypoglycemia and sustain their metabolism.
In the Golden doodle puppy's diet, the ratio of calcium to phosphorus is important as well, a 1:1 ratio is best.
What to look for in Golden Doodle Dog?
AAFCO (The Association of American Feed Control Officials) has developed the minimum nutritional needs for dogs and motivates all manufacturers of commercial dog food manufacturers to follow.
According to studies, food nutrient profiles, lactating females and puppies require a minimum of 8% fat and 22% protein.
At least 18% protein and 5% fat are required by adult dogs to maintain their health.
Below are some general things to look for in Golden doodle dog food.
Healthy source of animal-based fat (chicken fat)
Real animal protein source as the main ingredient
No additives (flavors, preservatives, and colors)
Restricted use of synthetic supplements
Limited content of digestible carbohydrates
Analyze the calorie count of every food. You will need a comparison between the calorie counts per cup with the feeding recommendations mentioned on the label as every product is different.
The Best Dog Food for Golden doodles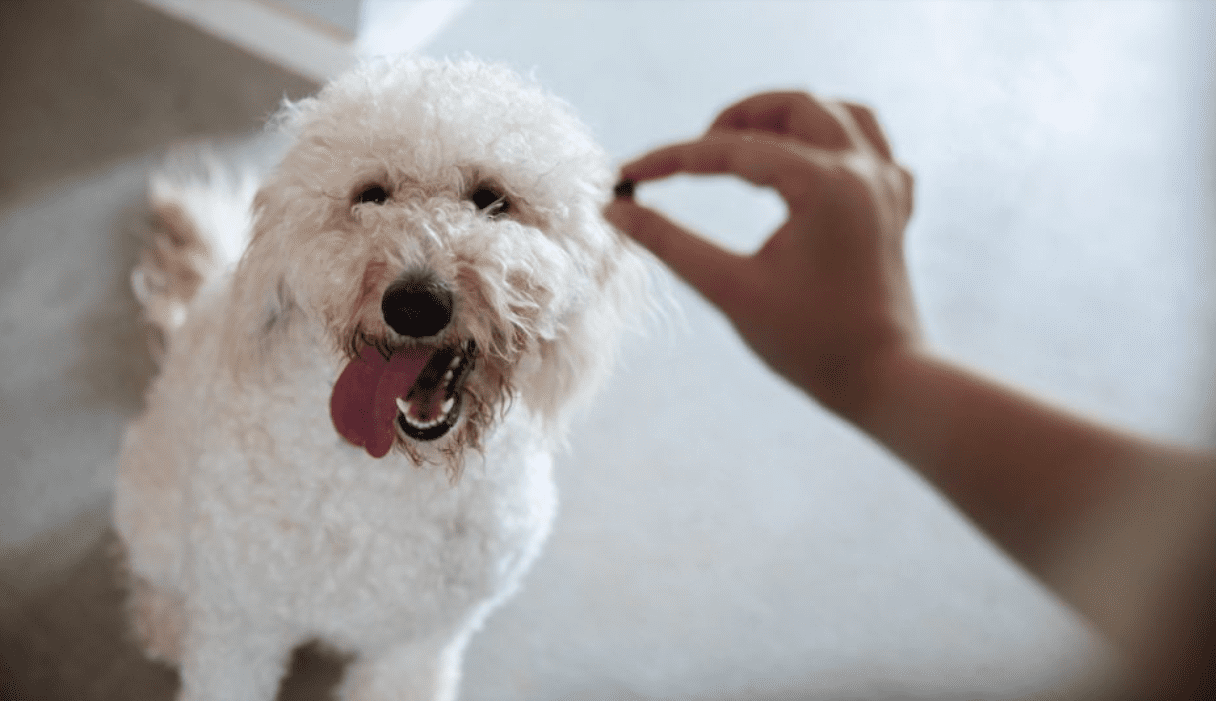 Your pet deserves the best food, so take time to think and check the options available in the market and make the right decision. In this article, we have picked the best dog food options for Golden doodles.
Blue Buffalo Freedom Senior Chicken Dry Dog Food
The Golden doodle will love this recipe prepared by Blue Buffalo as it comes with the flavorful goodness of real chicken mixed with fresh wholesome grains, fruits, vegetables, and lentils. It is the best option for dogs, especially those who have histories of cereal grain sensitivities.
Features:
Minimum 24% crude protein
373kcal per cup calories
Minimum 14% crude fat
Fiber and moisture: 6% and 10% maximum
5 top ingredients: peas, real chicken meat, potatoes, chicken, and tapioca starch.
Amino acid, omega fatty acids, minerals, vitamins, prebiotics, and probiotics.
PROS & CONS
| | |
| --- | --- |
| PROS | CONS |
| No by-product, soy, fillers, wheat, or corn | |
| 100% grain-free | |
| Manufactured in the USA | |
| Fatty acid for coat and skin health | |
Instinct Raw Boost Grain-Free Recipe
The food offers a range of premium-quality dry dog food. The best point about the food is a luxurious meal for all aged dogs. It is a blend of freeze-dried raw and deboned chicken with free kibble. Unlike any other, it is a grain-free food.
The combination of raw and dry provides a blast of nutrients and flavors for both adults and puppies, which boost their health and balance their level of activity.
There are no fillers of wheat or corn and you get 100% nutrition instead tailored for the energetic dogs. The recipe is best for all age groups including small- and medium-breed puppies.
Features
Crude protein min 37.0%
Calories 4,427 kcal/kg
Crude fiber 4.0% max
Crude Fat 20.5% min
Moisture, vitamin E, Fatty acids
The first five ingredients are chicken meal, chicken, chicken fat, Peas, tapioca
PROS & CONS
| | |
| --- | --- |
| PROS | CONS |
| Free from grains, corn, and wheat | Diarrhea and sickness |
| Canine probiotic strains for digestion | Freeze-dried meat can be the reason for E.coli or salmonella |
| 37% protein content because of the blend of freeze-dried and raw meat | |
Merrick Grain-Free Dry Dog Food Recipe
This dog food has a leading quantity of Chondroitin and Glucosamine, which helps to promote pain-free joints and bone health. It is a sweet potato and Texas beef recipe to maintain the classic and shiny look of the coat and feel soft.
The recipes are manufactured in the USA by following the standards of the FDA. The recipe maintains the overall health of a dog. The recipe is best for grain-sensitive pups.
Features
Crude protein min 34.0%
Calories 3579 kcal/kg
Crude fiber 34.0% max
Crude Fat 15.0% min
Moisture, Taurine, Fatty acids and Glucosamine
First five ingredients Lamb meal, Deboned Beef, Sweet potatoes, peas, Salmon meal
PROS & CONS
| | |
| --- | --- |
| PROS | CONS |
| Added nutrients, minerals, and vitamins | Vomiting and diarrhea |
| Free from preservatives, flavors, colors | Unsealable package and not keeping the freshness of the food |
| 100% satisfaction guaranteed | |
Taste of the Wild Ancient Prairie Recipe
It is the best dog food brand that offers many premium quality products for your dogs. This recipe is a bit different, as the company decided to make a product that has grains for dogs that is not suitable for a grain-free diet.
It acts as a wonder for the immunity and overall health of the dog.
Taste of the Wild Ancient Prairie has ancient grains like grains of millet, sorghum, and chia seeds which are protein and fiber-rich.
Features:
Crude protein min 32.0%
Calories 3,719 kcal/kg
Crude fiber 18.0% max
Crude Fat 18.0% min
Moisture, vitamin E, Fatty acids, and Taurine
The first five ingredients are chicken meal, grain, sorghum, millet, chicken fat, water buffalo, and pork
PROS & CONS
| | |
| --- | --- |
| PROS | CONS |
| Fatty acid for coat nutrition and skin health | Vomiting and diarrhea |
| Ancient and wholesome grains | Not good for dogs with heart problems and yeast allergy |
| Suitable for all ages | |
| Ingredients are from a sustainable source | |
Diamond Naturals Skin & Coat
The recipe is made specifically to promote the health of coat and skin. It is the best option for dogs with skin allergies and dry coats. It also has healthy potatoes, vegetables, minerals, and real salmon.
All the ingredients ensure to provide the dog with a 100% complete and balanced diet.
The food possesses guaranteed ratios of prebiotics and probiotics to help with digestion, amino acids help to enhance the strength of the muscles. It has only natural ingredients.
Features:
Crude protein min 25.0%
Calories 3,600 kcal/kg
Crude fiber 18.0% max
Crude Fat 14.0% min
Moisture, vitamin E, Fatty acids, and Taurine
The first five ingredients are fish meals, salmon, lentils, potatoes, and peas
PROS & CONS
| | |
| --- | --- |
| PROS | CONS |
| Amino acids for strong and lean muscles | Bad reactions include the development of skin infections |
| Hypoallergenic and antioxidants ingredients | Vomiting and diarrhea |
| Omega fatty acids to support immunity and health of the skin | False advertisement |
Wellness Core Natural Grain-Free Dry Dog
Probably you have heard the name before, and the product quality speaks for itself. The kibble is packed with chicken meal and real turkey, making it enriched with natural antioxidants and healthy protein.
It has ingredients good for human consumption, with no artificial ingredients, fillers, preservatives, or growth hormones.
Features:
Crude protein min 34.0%
Calories 3,698 kcal/kg
Crude fiber 4.0% max
Crude Fat 16.0% min
Moisture, vitamin E, Fatty acids, and Taurine
The first five ingredients Turkey meal, Deboned Turkey, Peas, Dried ground potatoes, chicken meal
PROS & CONS
| | |
| --- | --- |
| PROS | CONS |
| 100% USDA-certified chicken | Diarrhea |
| Free from growth hormones | Grain-free foods develop heart problems |
| With human-grade ingredients | |
ACANA Regionals Protein-Rich, Real Meat
This is one of the best grain-free dry kibble available. It is an affordable brand. It has no artificial flavors, colors, fillers, preservatives, and by-products of animals.
The ingredients are of premium quality and human-grade. Biologically it is considered an appropriate diet for dogs of all sizes and ages.
Features
Crude protein min 33.0%
Calories 3,440 kcal/kg
Crude fiber 6.00% max
Crude fat 17.0% min
Moisture, vitamin E, Fatty acids and calcium and Glucosamine
The first five ingredients Deboned turkey, deboned chicken, turkey giblets, chicken liver, and catfish meal
PROS & CONS
| | |
| --- | --- |
| PROS | CONS |
| Nutrient-dense and high in protein | Vomiting and diarrhea |
| Premium animal ingredients | Freeze-dried might be the reason for illness-causing bacteria |
| Appropriate biological diet | |
| | |
Buying Guide
The selection of dog food is a matter of concern without consideration of the dog's type, and proper nutrition is difficult for the development and overall health. Before buying the best food for Golden doodle, the following points must be considered.
Size
Coat Type
Level of activity
Health issues
Age
Conclusion
It is quite a blessing to share a home with a Golden doodle, as there are very few breeds as loving, fluffy, adorable, and soft as Golden doodle. To conclude your dog requires some best and balanced nutrition to maintain the health of your pet. Above are some best brands to help your friend enjoy the best nutrients.