Give your pet the food they will enjoy eating as much as you will enjoy taking care of them. It is
a well-known name in the pet food industry. Nutrena Dog Food is renowned for its dedication to
offering optimal nutrition for dogs of all breeds and life stages.
With a long history of offeringamazing pet food, Nutrena has built a strong reputation as a dependable and trustworthy supplier of premium pet food.

In this article, Pets on Paws – Heaven's Dog Food Store will examine the Nutrena product line in this post, go over its nutritional summary, highlight its benefits and examine reviews, ratings,
and recalls.

Features of Nutrena Dog Food

Nutrena Pet Food is an ideal deal when it comes to feeding your furry friends with high quality
nutrition and keeping them at their best. Here's what sets Nutrena apart and makes it the ultimate
choice for your canine companion
High-Quality Goodness: Nutrena provide the best food for your dogs. To provide your
dog with the superior nourishment they need, each bag is filled with genuine meat,
nutritious grains, and fresh vegetables.
No artificial ingredients: Nutrena's recipes don't include any artificial flavors,
preservatives, or fillers. It believes in keeping things natural and making sure that your
dog's food is devoid of any artificial ingredients that harm their health.
Options for Every Puppy: It is the best option for your pet. It offers a variety of items to
suit your pet's preferences for a grain-inclusive or grain-free meal.
Chicken Done Right: The main component in our dog food is chicken that hasn't been
given any antibiotics. This guarantees that your dog is consuming high-quality protein. It
also helping them build healthy muscles and maintain overall wellbeing.
Brain and Eye Boost: Nutrena boost the intelligence needs of your dog as well. DHA,
which aids brain and eye development, is abundant in Nutrena. Your dog will be capable
of handling any challenge and sharp as a tack.
Happy Tummy, Happy Puppy: We are all aware that a happy dog implies a healthy gut.
Nutrena incorporates probiotics into our products for this reason. These little miracles
promote a robust immune system and regulate digestion.
Absorption Magic: The nutrients in Nutrena's dog food are incredibly simple for your
dog to absorb. It ensures that your pet receives the most nutritional value from their food.
Activating Beast Mode: What's the Secret Weapon? L-Carnitine. The goal of this is to
enhance your dog's general functionality and performance. With that increased energy,
your dog will be ready to take on the world.

Nutrena Dog Food Product Range
Nutrena has a wide variety of products available in various sizes, ages, and levels of activity. The company offers formulas for various life stages and lifestyles because it is aware that every dog has different nutritional needs. Nutrena River Run Dog Food, one of their well-liked products, is made for active dogs who participate in active physical activity.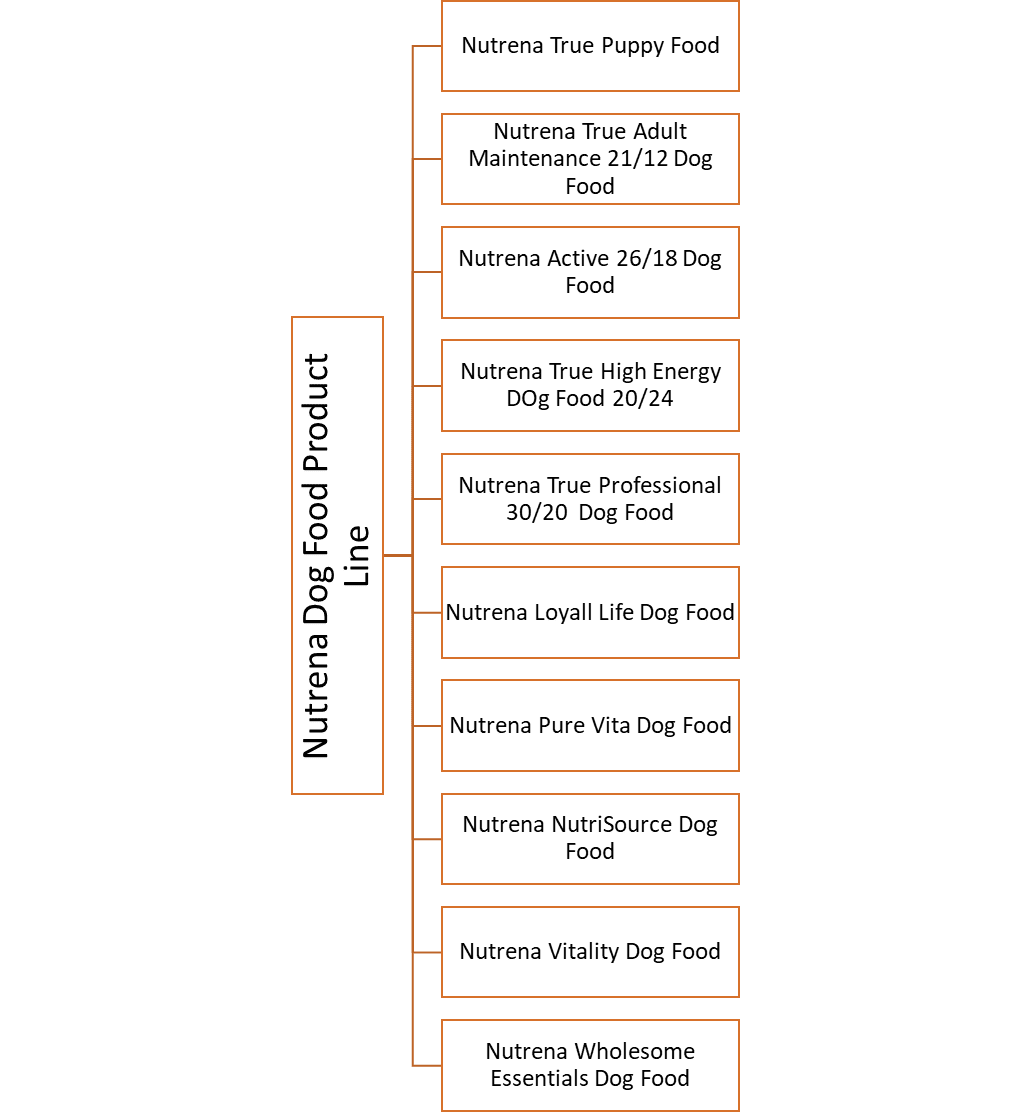 Nutrena True Puppy Food
Designed to provide puppies with the protein and energy they need to grow strong and healthy. Puppies need the protein and energy found in Nutrena True Puppy Food to help them grow up strong and healthy.
Docosahexaenoic acid (DHA) from fish oil, along with calcium and phosphorus are very healthy for bone growth. It has been scientifically shown to improve digestion and immunological support. Each serving is suitable for Nutrena all life stages dog food and fits the special requirements of growing dogs that are pregnant or nursing.
Nutrena True Adult Maintenance 21/12 Dog Food
Designed to assist dogs with typical activity levels' daily strength and health. With high-quality ingredients you can trust, Nutrena True Adult Maintenance 21/12 Dog Food is specially created to keep your moderately active dog looking and feeling their best.
Each serving contains TruMune power, which supports digestion, mobility, and immunological defense. Furthermore, the Omega 6 & 3 fatty acids in unique Opti-Cook method and prebiotic addition provide special digestion assistance for a healthy skin and coat.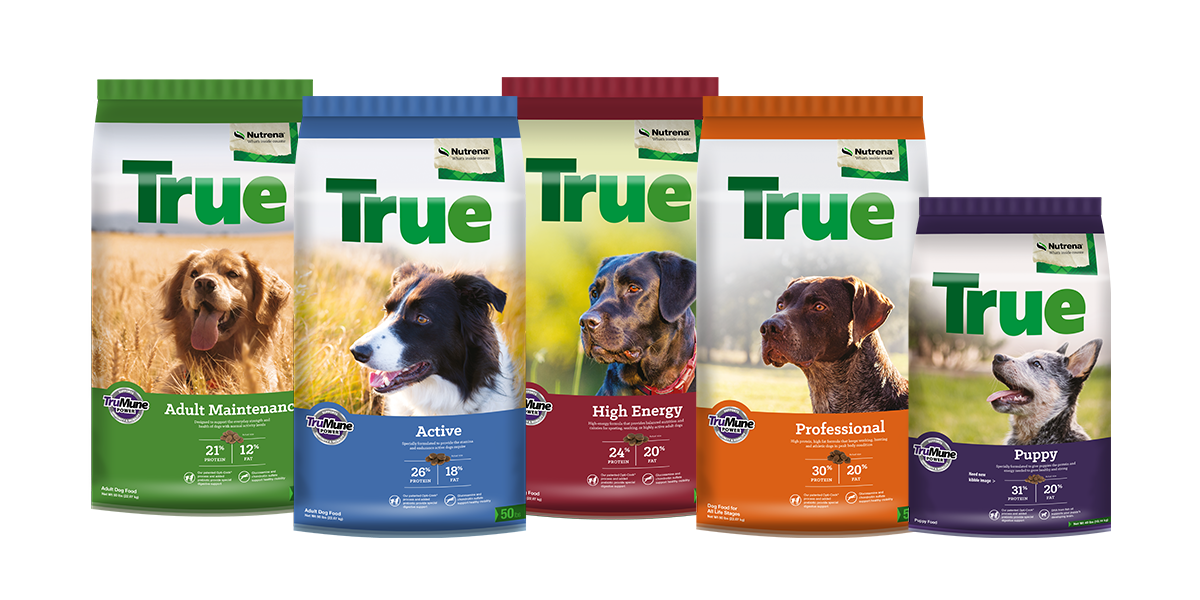 Nutrena True Active 26/18 Dog Food
Nutrena True Active 26/18 Dog Food is particularly intended to provide the stamina and endurance your energetic dog requires with optimized levels of protein and fat. This dog food is specially formulated to provide the stamina and endurance active dogs require.
TruMune power provides immunity and mobility support, as well as glucosamine and chondroitin sulphate to maintain healthy joints, to keep the pal active. Additionally, each serving is prepared using patented Opti-Cook technology and a prebiotic supplement for improved digestion.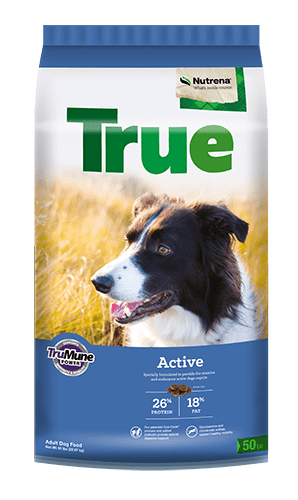 Nutrena True High Energy 24/20 Dog Food
This product is high in energy and supplies calories and a balanced diet for adult dogs who are athletic, active, or working. Nutrena True High Energy 24/20 Dog Food provides sporting, working, and extremely active dogs with the energy they require for both brief and sustained activities that last all day.
It is formulated with the proper ratio of protein, fat, and nourishing carbohydrates. TruMune power for immunity and mobility support, glucosamine, and chondroitin sulphate to support healthy joints, and taurine for heart health are all included in every bag to protect dogs. Additionally, each serving contains assured amounts of Omega 6 & 3 fatty acids, supporting skin and coat.
Nutrena True Professional 30/20 Dog Food
This contain formula that is strong in protein and fat that keeps working, hunting, and athletic dogs in top physical shape. Every bowl of Nutrena True Professional 30/20 Dog Food contains a high protein, high fat formula to maintain your working, hunting, or athletic dog in top condition.
Every bit provides TruMune power for enhanced immunity and assistance for mobility. You can offer them the best so they can concentrate on giving their best performance by providing them with glucosamine and chondroitin sulphate to support healthy joints, taurine for a stronger heart, and Omega 6 & 3 fatty acids for a better skin and coat.
Nutrena Loyall Life Dog Food
For dogs that are at different stages of life, the Nutrena Loyall Lifeline is made to offer full and balanced nourishment. For pups, adult dogs, and senior dogs, there are formulations included. To promote general health and energy, the Loyall Life food combine premium proteins, like real chicken, lamb, or fish, with nourishing grains and other healthy ingredients.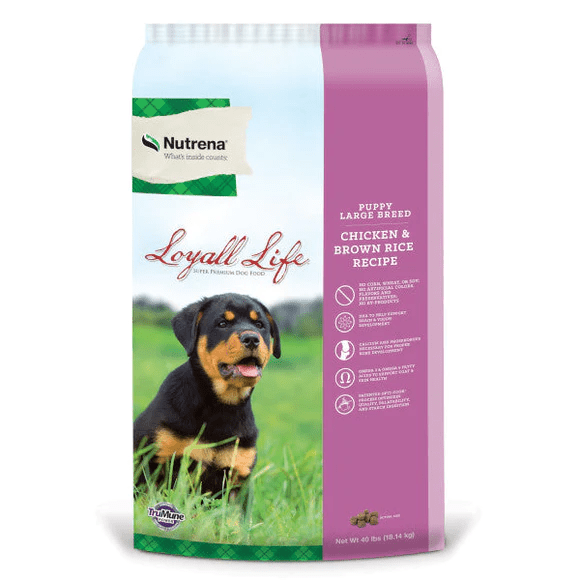 Nutrena Pure Vita Dog Food
For dogs with special dietary sensitivities or food allergies, the Nutrena Pure Vita range concentrates on offering diets with a small number of ingredients. These recipes combine carefully chosen carbs and other healthy elements with a single protein source, such as salmon or turkey. Pure Vita meals are excellent for dogs with sensitivities because they don't contain common allergens like wheat, maize and soy. In short, it is one of the best dog food for sensitive skin dogs.
Nutrena NutriSource Dog Food
To accommodate a range of dietary preferences, the Nutrena NutriSource brand provides a selection of grain-inclusive and grain-free products. To ensure optimum nutrition and digestion, these recipes include high-quality proteins, whole grains, and nutrient-dense foods. There are NutriSource diets for young dogs, adult dogs, and elderly dogs.
Nutrena Vitality Dog Food
The elderly dog's nutritional requirements are supported by the Nutrena Vitality line, which was created especially for them. These recipes emphasize supporting the joints, brain health, and general strength of ageing dogs. To improve mobility and general well-being, the Vitality formulations include components like glucosamine, chondroitin, and antioxidants.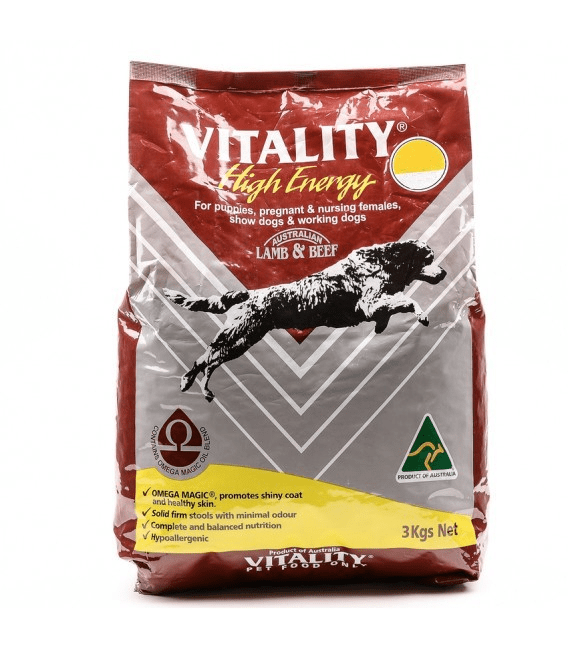 Nutrena Wholesome Essentials Dog Food
A variety of food from the Nutrena Wholesome Essentials line focus on using real meat as the primary ingredient. These recipes are designed to give dogs the top-notch proteins and nutrients they need for maximum health and vigor. There are Wholesome Essentials diets for young dogs, adult dogs, and elderly dogs.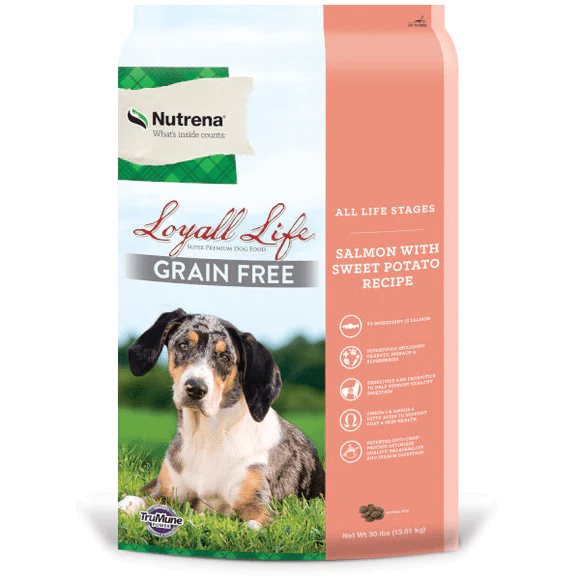 Nutrient Overview of Nutrena Dog Food
To give dogs a healthy and comprehensive diet, Nutrena Dog Food is specially prepared. To support ideal dog health, it focuses on including vital nutrients such as
Proteins
Carbs
Lipids
Vitamins
Minerals
Nutrena Company ensure the high quality and nutritional food for your pet.
Benefits of Nutrena Pet Food for Dogs
1. Support the Digestion of dog
Nutrena Dog Food involves original high-quality process and added prebiotic that provide special digestive support to the pet.
2. Support for Active Dogs
It contains Glucosamine and chondroitin sulfate that support healthy mobility.
3. Healthy Skin & Coat
The ingredients of Nutrena contain guaranteed levels of Omega 6 & Omega 3 fatty acids that support healthy skin and coat.
4. Taurine for heart health
If you study the ingredients of Nutrena, you will find that it contain rich amount of vitamins and minerals that support key body functions in dog. Nutrena Dog Food Contains no artificial colors, flavorings, or preservatives.
5. High-quality ingredients
Nutrena Dog Food emphasizes the use of high-quality ingredients, that contributes to the food's overall nutritional value.
6. Wide range of options
To meet the various dietary requirements and life phases of dogs, Nutrena offers a range of recipes.
7. Ensure proper nutritional balance
It emphasis on feeding dogs a balanced diet, making sure they get the nutrients they need for good health and energy.
Nutrena Dog Food Reviews, Ratings and Recalls
Nutrena Dog Food reviews are generally positive from dog owners. Many consumers value the brand's dedication to using premium ingredients and the improvement in their dogs' health that they notice. The specific formulas, such as Nutrena River Run Dog Food, have been praised for providing sustained energy and supporting active dogs' needs.
Regarding rankings, review sites and websites for pet foods frequently give Nutrena positive reviews. These scores demonstrate the brand's commitment to providing wholesome dog food. Below are the top satisfied customers who gave Nutrena Dog Food a perfect 5 out of 5 stars on Chewy.com. They praised the good taste and recommended Nutrena Dog Food in search for the best food for your dog.
Nutrena Dog Food Recalls
It is significant to note that Nutrena has not experienced any significant recalls recently. However, it is always advised to periodically check the official Nutrena website or dependable pet food safety resources to be informed on any potential recalls. But here are some other dog food recalls you might waana know.
Conclusion
A variety of premium pet food items are available from Nutrena Pet Food that are made to fulfil the dietary requirements of dogs. The company strives to enhance the general health and wellbeing of dogs at various phases of their lives by putting an emphasis on nutrient balance and high-quality ingredients. Despite its restricted availability and somewhat higher price, Nutrena has received great reviews, ratings, and there haven't been any recent recalls, suggesting that it is a reliable option for pet owners looking for premium dog food. To choose the best diet for your dog's unique needs, always talk to your veterinarian.
I hope this is useful. If you have any questions, ask in the comments section.